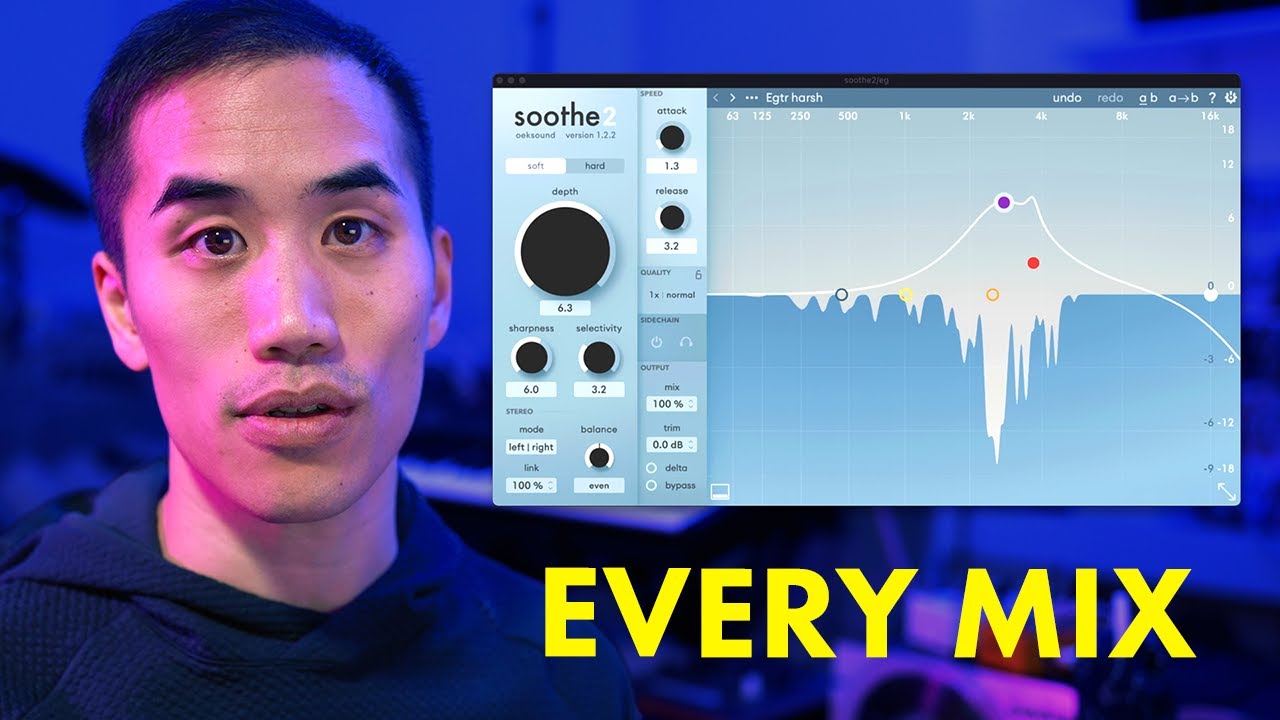 This will absolutely make your mixes better (Soothe2)
Read Time:
2 Minute, 18 Second
Thanks for watching! I've used Soothe2 for years so was more than happy to make this video when Oeksound reached out about sponsoring a video. Check out their 20 day trial: https://oeksound.com/plugins/soothe2/
Music in this video: https://fanlink.to/droppy
(The song I used for examples is not released yet)
Subscribe → http://bit.ly/subAndrewHuang
Sign up for my online music production class: http://learnmonthly.com/andrew
Learn more about production & music theory with this playlist: http://bit.ly/AHMusicandProduction
Merch!
https://teespring.com/stores/andrewismusic
Support my work on Patreon and be the first to get all my new music: http://patreon.com/andrewhuang
Chapters:
0:00 Intro / disclosure
0:29 Sound cleanup
3:40 De-essing
6:56 Sidechaining by frequency
9:04 Troubleshooting the mix
10:09 Weird sound design trick
★ FOLLOW ME HERE ★
TikTok https://vm.tiktok.com/weEbNK/
Instagram http://instagram.com/andrewismusic
Facebook http://facebook.com/andrewismusic
Twitter http://twitter.com/andrewhuang
★ LISTEN TO MY MUSIC ★
Spotify http://spoti.fi/2pF0qRB
iTunes http://apple.co/2psaUmL
Google Play http://bit.ly/2qlhAjy
Bandcamp http://bit.ly/2oRWCby
★ GEAR ★
Disclosure: Most of these are affiliate links – if you buy anything through them (even if it's not the linked item) I'll receive a small percentage, which helps support my channel.
Music software (Ableton) https://www.ableton.com/shop/live/?affiliate=TlTs9eL4
Keyboard https://bit.ly/2MH4xbN
Modular https://www.pntrac.com/t/TUJGR0tHS0JHSUZFSE1CR0hMRUZL
Headphones – lots of hype https://amzn.to/2JmTmDK
Headphones – super pro omg https://amzn.to/2VOcmjz
Small audio interface https://amzn.to/2H7x4mx
Big audio interface https://bit.ly/33r0SER
Analog preamp/comp https://bit.ly/2RvrYIe
OP-1 http://amzn.to/1RI75C4
Ableton Push https://www.ableton.com/shop/push/?affiliate=TlTs9eL44
How I learned synthesis https://bit.ly/2PROCoT
Mic 1 https://bit.ly/3uqMrwH
Mic 2 https://bit.ly/3eWuBv1
Vlog mic http://amzn.to/2lpjHEq
Lav mic https://amzn.to/3ssEZ66
Main camera https://amzn.to/3FngomP
2nd camera http://amzn.to/2aHkv35
I use Distrokid to get my music on streaming platforms – get 7% off your first year here: http://distrokid.com/vip/huang
★ SPECIAL THANKS TO ALL MY TOP PATRONS ★
—
If you're new here, my name is Andrew Huang and I'm a musician who works with many genres and many instruments – and I've also made music with many things that aren't instruments like balloons, pants, water, and dentist equipment. For more info visit my website: http://andrewhuang.com
You can also stream and download my 40+ albums and EPs at http://andrewhuang.bandcamp.com or check out my other videos at http://youtube.com/andrewhuang
Thanks for watching today and a big hug to you if you share this video with someone!