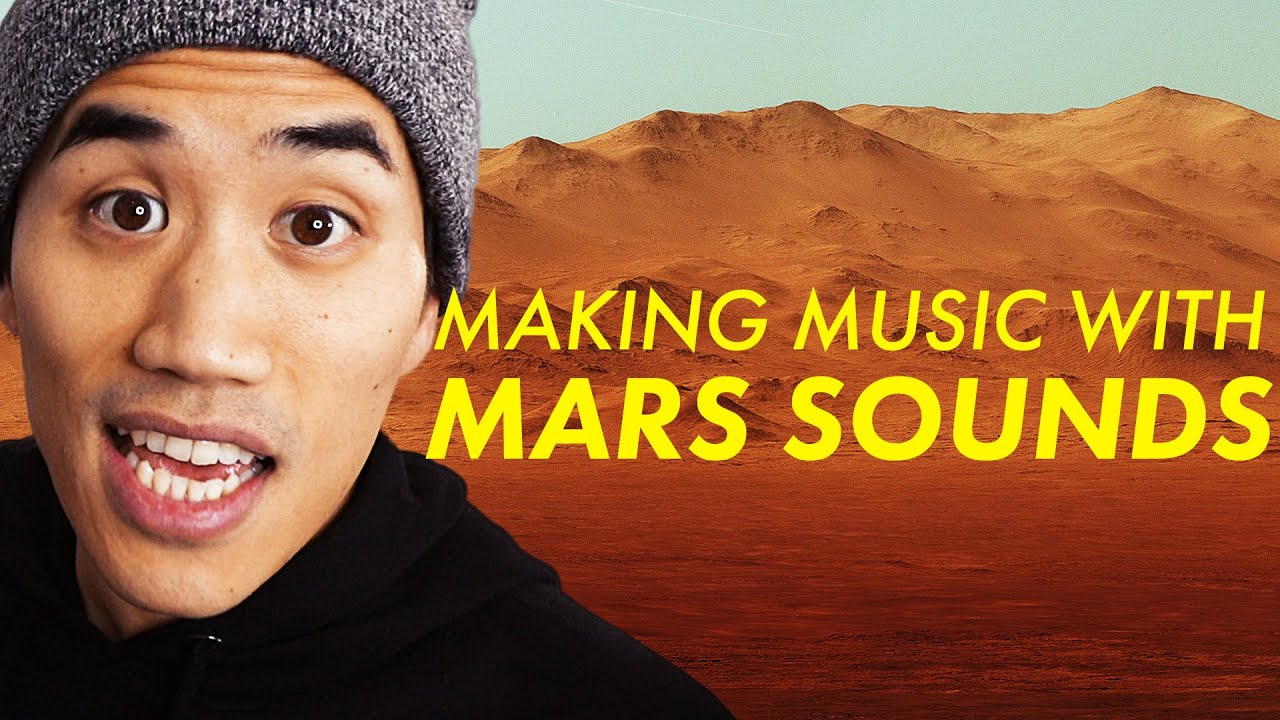 Making music with actual sounds from Mars
Read Time:
3 Minute, 12 Second
Mars bars. 👽This song is called "Nomad" and is on my new album ALABASTER: https://fanlink.to/alabaster
Subscribe → http://bit.ly/subAndrewHuang
Giveaway is over, thanks to everyone who entered!
Learn more about production & music theory with this playlist: http://bit.ly/AHMusicandProduction
Support my work on Patreon and be the first to get all my new music! http://patreon.com/andrewhuang
★ FOLLOW ME HERE ★
Instagram http://instagram.com/andrewismusic
Twitter http://twitter.com/andrewhuang
Facebook http://facebook.com/andrewismusic
★ LISTEN TO MY MUSIC ★
Spotify http://spoti.fi/2pF0qRB
iTunes http://apple.co/2psaUmL
Google Play http://bit.ly/2qlhAjy
Bandcamp http://bit.ly/2oRWCby
★ JOIN THE 820 CREW DISCORD ★
https://discord.gg/huTWT6G
★ GEAR ★
Disclosure: Most of these are affiliate links – if you buy anything through them (even if it's not the linked item) I'll receive a small percentage, which helps support my channel.
Keyboard https://bit.ly/2MH4xbN
Modular https://www.pntrac.com/t/TUJGR0tHS0JHSUZFSE1CR0hMRUZL
Headphones – lots of hype https://amzn.to/2JmTmDK
Headphones – super pro omg https://amzn.to/2VOcmjz
Small audio interface https://amzn.to/2H7x4mx
Big audio interface https://bit.ly/33r0SER
Analog preamp/comp https://bit.ly/2RvrYIe
OP-1 https://bit.ly/3zeypjP
How I learned synthesis https://bit.ly/2PROCoT
Mic 1 https://bit.ly/3uqMrwH
Mic 2 https://bit.ly/3eWuBv1
Vlog mic http://amzn.to/2lpjHEq
Main camera http://amzn.to/2aHkv35
I use Distrokid to get my music on streaming platforms – get 7% off your first year here: http://distrokid.com/vip/huang
★ SPECIAL THANKS TO ALL MY TOP PATRONS ★
Landon Trujillo
Noa Anny Michael
Gan ceann
Justin Howell
Patricio Gaudelli
Silas Reaper
carmymarm
Rene Seckler
Samuel Costa
Nick Simmons
Peter Vermeychuk
Ryan Mitchell
Mateo Rodriguez
Dakota Gilliam
Allen Perry
corthee
Leone
Cory Rhoades
Luke Gilliam
John McRae
Seth Olav Yong
Daniel Herten
Will Goldsmith
Jacob Maywood
Fred von Graf
Simon Tobias
Kaitlin Sebbage
Joel Holm
Nicholas Taylor
Sam Barratt
Hoppenheimer
Connor Somerholter
Shannon manning
Greg Kamer
Kynarro Aetone
Spencer Berndt
Philip Ohlin
Helton Paz
nyllablesoiseless
Silver Iron
Yahali Gottlieb
ADdam lolz
Jamaal Curtis
anamuko
Edmon Cruz
Paul
herrnn radidgumpu
Leon Schutte
TobiCaboose
Ian Kim
florencia la rica
James Paul Walker
Pijus Pijus
Nick Johnson
Ethan Lim
Benjamin San Souci
Kristopher Charles
Maximus Olenik
AJ Berg
DVPBear
Tim Koulaev
Julian Lyn
Damon Oliveira
Karol Hojka
Ben Adshead
Felix
Timothy McLane
Alexander Heale
queenofrainbow
Jack Morris
Tobias Gurdan
★ LYRICS ★
i'm a nomad, i've been roaming
i don't know, man, when i go in
might never go back to the homeland
i'm afloat in an interplanetary ocean
setting sail with a full wind
out there where the stars shine bright
when i beam back beats with the insight
i could still incite riotous scenes back on earth
with a subwoofer clipping on 808 kick like
i'm a shark in a fistfight
i'm a martian at midnight
about to march in and hit
like i'm partial to spitting real art from a windpipe
i'm a nomad, i've been roaming
god of war, i've been roman
standing in the storms while they close in
blood red planet i'm roving
interplanetary
steady headed through the furnace
heaven burning with me
seven minutes to the surface
—
If you're new here, my name is Andrew Huang and I'm a musician who works with many genres and many instruments – and I've also made music with many things that aren't instruments like balloons, pants, water, and dentist equipment. For more info visit my website: http://andrewhuang.com
You can also stream and download my 40+ albums and EPs at http://andrewhuang.bandcamp.com or check out my other videos at http://youtube.com/andrewhuang
Thanks for watching today and a big hug to you if you share this video with someone!
Andrew Huang
https://www.youtube.com/andrewhuang