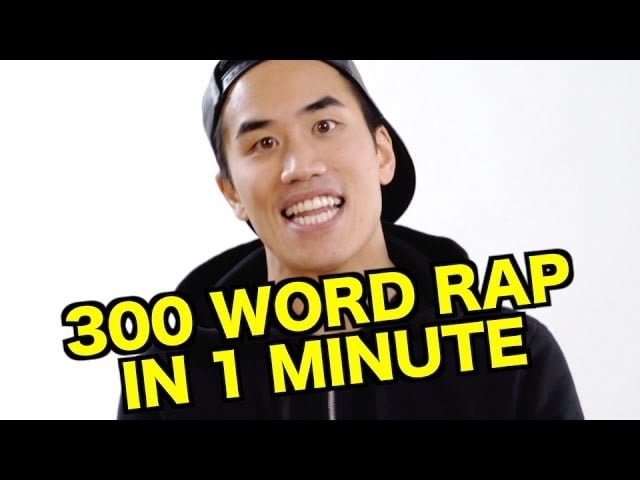 FAST RAP – 300 words in a minute | Andrew Huang
Read Time:
3 Minute, 23 Second
Hit that share button!! I'm high fiving you in my mind.
🎥 Behind the scenes: https://www.youtube.com/watch?v=Tq6o-EjufbA
🌟 Subscribe: http://bit.ly/subscribetoandrewhuang
🔔 And turn on notifications so you know as soon as I put out something new! BELL ME, BRO.
Thanks #androidwear for helping me keep time for this #magicminute. http://magicminute.withgoogle.com #ad
👀 WATCH MORE: http://youtube.com/andrewhuang
⬇️ DOWNLOAD
This track is exclusive to my patrons – support me on Patreon and be the first to get all my new music! http://patreon.com/andrewhuang
🚀 FOLLOW ME
Instagram http://instagram.com/andrewismusic
Twitter http://twitter.com/andrewhuang
Facebook http://facebook.com/andrewismusic
Tumblr http://andrewismusic.tumblr.com
SoundCloud http://soundcloud.com/andrewismusic
Snapchat @andrewhuaaaaang
🎤 GEAR WE USED
Camera: http://amzn.to/1RJk8n9
Lens: http://amzn.to/1ZzkPna
Stabilizer: http://amzn.to/1Xe0Vfx
Microphone: http://amzn.to/1OlKXJZ
Audio interface: http://amzn.to/1RJk0nE
Music software: http://amzn.to/1PN6a32
👑 SPECIAL THANKS TO ALL MY TOP PATRONS
Benjamin San Souci
pluffaduff
Bill Turner
Samuel Costa
Brandon Syres
Ryli Shuan
Nick Simmons
Peter Vermeychuk
Leon Schutte
Ryan Mitchell
Nicholas Pida
Ben Adshead
Felix
TobiCaboose
Linya
Timothy McLane
Alexander Heale
Simon Andersen Svensson
Laura Haile
queenofrainbow
J.D. Springer
Rhys Huntley
Samuel Gardiner
Jack Morris
💪 CREDITS
Music and lyrics by Andrew Huang
Filmed by Philip Bowser
Edited by Andrew Huang and Philip Bowser
Color grade by Andrew Huang
Produced by Essa Bowser
Assisted by Keith Brown and Tyler Williams
✒️ LYRICS
hey, start the countdown, one minute
in the beginning i was swimming in these words, i was in it
saw one that i liked and i picked it
addicted to rap, felt like it was infinite
fit together letters and it's better with a swiftness
here to kick a rhythm that'll put me in business
flip a script with a wit, i'm a visionary
'til i finish every page of the dictionary
and i rip it the sickest, the quickest
hitting ridiculous speed
i take it to the limit
and i spit it very hot
yeah i take it to the top
one magic minute i got spinning on the clock
second hand swings 'round, giving me some props
no artificial flavor but you know i make it pop
smashing
slapping these raps en masse
on a flipboard, tablet, or restaurant napkin
it's passion i'm blasting
even put it on my fashion
ha, make it happen
and each day when i'm fresh out of bed
i'm feeling ready already to get ahead
i work hard, play hard
dropping science like in grade eleven
but i'm still getting extra cred
top of the class
true hustle, move muscle to the max
with a tongue like a blade i'll be cutting up the tracks
same one i use when i'm eating mini crackers
meaning yes, i eat mc's for snacks
none of them last, just a flash in the pan
but like a flash, i'll be way fast for a man
i take it to a level you could never comprehend
'cause i revel in the music and never want it to end
what a beat, what a rhyme
wonder why i float high like a butterfly
beating any other guy
so emphatic
bold, italic and underlined
300 coming in under time
👋 WHAT UP
If you're new here, my name is Andrew Huang and I'm a musician who works with many genres and many instruments – and I've also made music with many things that aren't instruments like balloons, pants, water, and meth lab equipment. Find out more about me or get in touch at http://andrewhuang.com
You can also stream and download my 40+ albums and EPs at http://andrewhuang.bandcamp.com or check out my other videos at http://youtube.com/andrewhuang
Thanks for watching today and a big hug to you if you share this video with someone!
FAST RAP – 300 words in a minute | Andrew Huang

Andrew Huang
https://www.youtube.com/andrewhuang