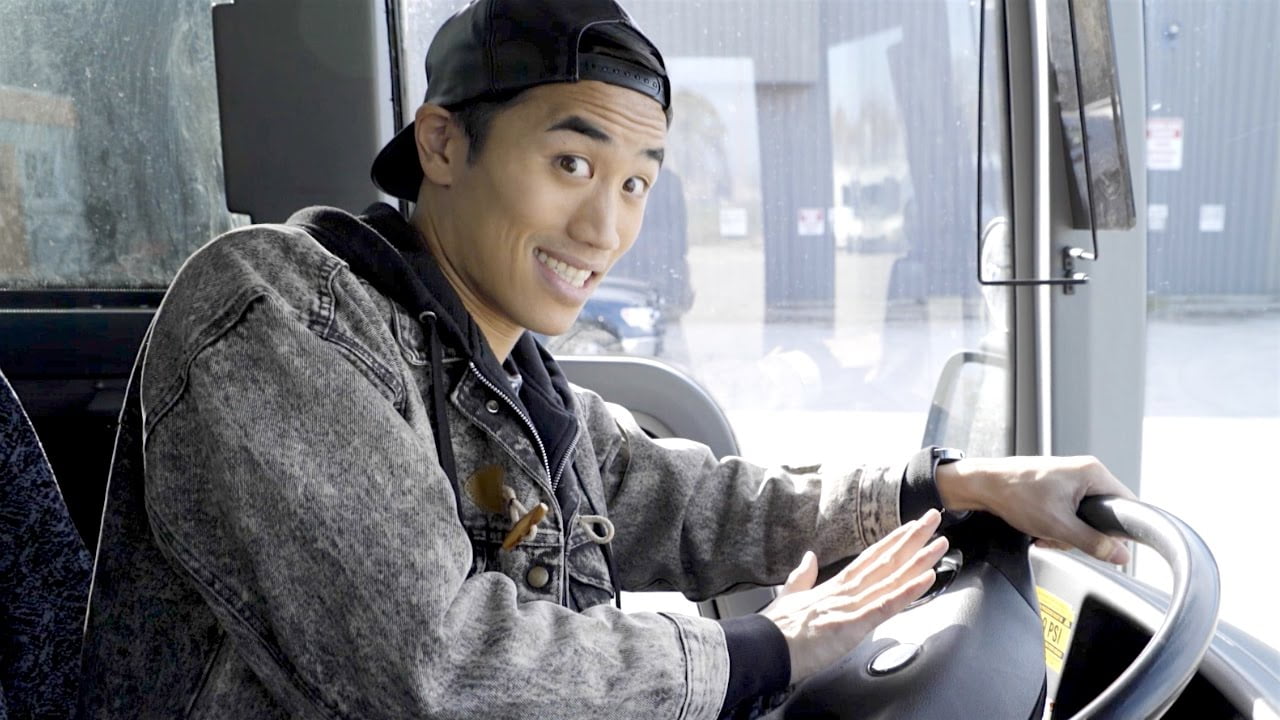 SONG CHALLENGE: 55-PASSENGER BUS | Andrew Huang
Read Time:
2 Minute, 51 Second
This bus had some serious bass. Thanks Greyhound for sponsoring this video! Check out the Greyhound Youtube channel here: https://www.youtube.com/channel/UC_FSwKzjRM0vFMh9-r8agdA
#AffordToExplore #Ad
Subscribe: http://bit.ly/subscribetoandrewhuang
Behind the scenes: https://youtu.be/ndmd4O6StA0
This song is an exclusive download for my patrons – join us and be the first to get all my new music! http://patreon.com/andrewhuang
🚀
FOLLOW ME
Twitter http://twitter.com/andrewhuang
Instagram http://instagram.com/andrewismusic
Facebook http://facebook.com/andrewismusic
Tumblr http://andrewismusic.tumblr.com
SoundCloud http://soundcloud.com/andrewismusic
Snapchat @andrewhuaaaaang
🎤
GEAR WE USED IN THIS VIDEO
Microphone 1: http://amzn.to/2e2wLLk
Microphone 2: http://amzn.to/2ft85sT
Audio recorder: http://amzn.to/1qzoG3B
Music software: http://amzn.to/1PN6a32
Camera: http://amzn.to/1RJk8n9
Lens: http://amzn.to/1ZzkPna
👑
SPECIAL THANKS TO ALL MY TOP PATRONS
Brandon Syres
Peter Vermeychuk
Ryli Shuan
Nick Simmons
Ryan Mitchell
Gabriel Zuckerberg
Nicholas Pida
Ben Adshead
Felix
TobiCaboose
Linya
Timothy McLane
Alexander Heale
Simon Andersen Svensson
Laura Haile
queenofrainbow
J.D. Springer
Rhys Huntley
Samuel Gardiner
Jack Morris
✒️
LYRICS
got my wheels on the track, you can let me go
back with another break-the-levee flow
bussing, you already know
steady moving, i could take this down to mexico
i'm going green as i'm going grey
close my eyes and dream with no delay
'cause i don't even need to know the way
the whole fleet, that's my motorcade
round round, get around, i get around
i get down with the sounds that i'm here putting down
i gotta bounce, always visiting new towns, and how
just wanna be living in the moment and my moment is now
i go hound
whatever the weather
you bet i'm settled in leather
making this trek at my leisure
reading more books than professors
might say i'm booking it fast
don't need to look for a pass
i'm picking up speed
it's feeling like freedom
now we're cooking with gas
yes i rev it and i rev it loud
but we keep it greener and i rep it proud
it's been a hundred years since we hit the ground
putting stars on the map, go and get it now
now where i'm bound is out to the ends, up to the top
'til i'm crowned, renowned
what i can do with all this found sound
a million miles, you know i never slow down
always on the go and i always go hound
🎥
Music by Andrew Huang.
Shot and color graded by Philip Bowser.
Assisted by Kori Moncur and Essa Bowser.
Edited by Philip Bowser and Andrew Huang.
👋
HELLO
If you're new here, my name is Andrew Huang and I'm a musician who works with many genres and many instruments – and I've also made music with many things that aren't instruments like balloons, pants, water, and meth lab equipment. Find out more about me or get in touch at http://andrewhuang.com
You can also stream and download my 40+ albums and EPs at http://andrewhuang.bandcamp.com or check out my other videos at http://youtube.com/andrewhuang
Thanks for watching today and a big hug to you if you share this video with someone!
SONG CHALLENGE: 55-PASSENGER BUS | Andrew Huang

Andrew Huang
https://www.youtube.com/andrewhuang